◆

1 About this Site

JavaScript
To view this website, your browser needs to be JavaScript enabled.

Recommended operating systems and browsers
Although we've done our best to support all major browsers, we do recommend you use the following software for your viewing pleasure.

Windows Operating Systems: Windows XP/Vista/7/8
Windows Browsers: Internet Explorer version 7.0 or higher, Mozilla Firefox version 3.0 or higher
Mac Operating Systems: Mac OS version 10.3 or higher
Mac Browsers: Safari version 3.0 or higher
Smartphones: iOS version 4.1 or higher, Android version 2.3 or higher
* Please keep in mind that you might have trouble accessing or viewing some of the contents
if your computer doesn't meet the requirements above or if your browser isn't properly configured.
◆

2 About the Page Layout

Below is an example of a typical page (homepage and each section) on this site. We've divided most of the pages into three sections that we call the Header Field, the Content Field and the Footer Field. We're hoping this makes it easier for visitors to use the various functions on the pages and quickly find what they're looking for.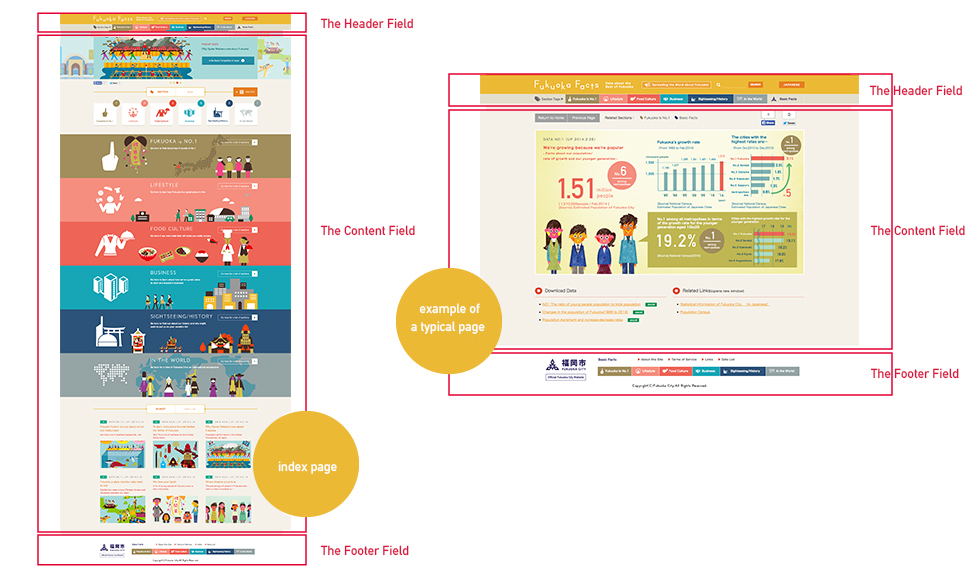 ◆

(1) The Header Field

You'll be able to see this field on top of all of the pages. On it are links to the homepage and other sections as well as a search window.

The field is easy to recognize with the official site name and logo.
Click on Spreading the Word about Fukuoka to view a message from the mayor that explains the purpose of this site.
Type in a word or phrase in the search window and then press Search Site to find what you're looking for.
Click on the colored tabs to see what's featured in each section.
◆

(2) The Content Field

The Content Filed on the homepage gives you an overview of each section and new stuff that's been added, while the Content Fields of each section tell you about specific topics in more detail.
◆

(3) The Footer Field

Just like the Header Field, you'll be able to see this part on the bottom of every page.

Click on Visit the Official Fukuoka City Website to go to our city's official home on the web.
Click on about this Site to go... here! Yes, you're already there!
Click on Terms of Service if you want more info on copyrights and other legal stuff.
Click on Links to view a list of sites you might want to visit.
Click on Data List to see a lot of fun and interesting facts and statistics on Fukuoka.
As with the Header Field, you can click on the colored tabs to see what's featured in each section.
◆

(4) How We've Organized the Website

We've organized information on this website into the following sections.
[ FUKUOKA is NO.1 ]

 This section shows things Fukuoka excels in among cities both nationwide and worldwide.

[ LIFESTYLE ]

 Learn more about how people in Fukuoka live safe, secure and healthy lives.

[ FOOD CULTURE ]

 How many restaurants are there in there in the city? How much do people in Fukuoka spend on food? Get answers to these questions and more in this section.

[ BUSINESS ]

 Visit this section if you're interested in Fukuoka's economic statistics, businesses, industries and employment figures.

[ SIGHTSEEING/HISTORY ]

 This section will tell you about tourism statistics, sightseeing highlights and local history.

[ IN THE WORLD ]

 Want to know where Fukuoka stands in the world in terms of reputation and status? Visit this section and find out!

[ BASIC FACTS ]

 This section gives you all the fundamental data about Fukuoka like population, area and so on.